As we reach the midpoint of 2022, the following is a detailed overview of all things Lightning. We are in the middle of transforming from a point-of-sale company to a POS Retail Technology Platform, which included the introduction of two new products to solidify our endeavor. All these technologies are available to ensure your data is consistent throughout the Lightning platform, in real-time, to ensure your staff can provide a great customer experience with in-store kiosk and E-Commerce.

Lightning Online Point of Sale



*We have introduced four new credit card devices from Pax for Lightning and Emergency Mode:
I.E., Pax S300, SP30, and two mobile units, the A60 & A920

Note: Supply chain restraints continue to hamper a global rollout of these units, and pricing continues to be volatile.
*We are moving away from VeriFone PAYware into USA E Pay, due to service reliability issues. Plus, this will allow our Lightning E-Commerce users to adjust an e-com sale in the event of a stocking issue. With our USA E-Pay interface, the original web order will obtain a pre-authorization number, allowing the store to adjust the order, then re-authorize the card at 'End Transaction.' THIS WILL NOT BE AUTOMATIC, as EPSG will have to create an account with USA E-Pay for your store, then cancel your PAYware after the upgrade has been completed. With each retailer's approval, the upgrade will move forward as this will affect your in-store orders who utilize the credit card vault, and/or use Lightning E-Commerce, as credit card data from VeriFone PAYware credit card backend can't be transferred to USA E-Pay.
*Does not apply to our franchise wine customer based in IA for their credit card vault data transfer.
*Up Coming: A new help subsystem is set to be released in the coming weeks, as we are doing away with our 120+ page PDF.
*Our 'Item Script' feature was wonderfully enhanced based on customer feedback. With the older design, if an item has a script attached to an item, that script would automatically pop up when the clerk scanned the item. We now offer two methodologies, if enabled:
A) When the item is sold, the script will automatically pop up. Plus, an indicator will be embedded onto that line item on the Ring Sales.
B) Don't automatically pop up, instead, an indicator will be placed on the clerk's screen. When clicked, the script will appear if needed.
*With the release of Windows 11, we were forced to make substantial changes related to printing at the Ring Sales screen in Chrome and Edge. This is a significant structural change where the printer dialog box will appear each time a receipt/cash drop/expense/etc. is initiated. All Lightning users are accustomed to the receipt automatically printing upon completion, without a printer dialog box prompt which is no longer possible with Windows 11.
Please note: Due to compatibility, Windows 11 will not support the older Logic Controls pole displays, instead, we strongly urge our users to migrate to our Enhanced Pole Display for $ 195, which you will read about below.
*The Sales Journal report now better represents split-tendered transactions, from the data on the screen, the printed report, and the Excel export.
* A 'weight' field within Lightning was implemented which is then passed to Lightning e-commerce to calculate shipping rates.
*We've completed our 'Mass Update' feature which allows a store to update in mass, retail, cost, last cost, all delivery services, wholesale pricing, and item script data. This also includes full audit trail reporting.
*The QuickBooks Online interface now includes additional options during the receiving session to accommodate Shipping, Supplies, Misc, & Credits, plus we extended the length of the Lightning invoice number field to match QuickBooks field lengths. Plus we ironed out a few pesky bugs from the initial release.
https://www.computerperfect.com/quickbooks.html
*Up Coming: Our Insta Cart interface was developed with one facet remaining to push automatic, hourly, data feeds to their respective servers.
*Delivery Services upgrades are coming - Drizly, Mini Bar, Delivery.com, and Insta Cart to accommodate some states recent sales tax guidelines as noted below:

Plus, an Insta Cart option for the Insta Cart representative to insert their card for payment at the time of sale since they work differently than the other delivery services.

*We added an option to remove the' TIP' functionally throughout the platform.


*We added on option to disable the clerk's ability to change the quantity, on the Ring Sales screen.

Default setting allows a clerk to click in the 'Qty' box to alter this value.


When this ability is disabled, notice the 'Qty' box


Via: Administration / Setup / Global Setup / POS Options - Allow clerk to quickly change qty on the Ring Sales screen by touching the qty box.

*We will shortly begin work on a Fin Tech interface which is designed for our Wine & Spirit retailers which allows them to receive your invoice in the backend via an EDI file. In short, your distributors will transmit the invoice to Fin Tech, which Lightning will read, and receive, with significantly less user interactive. We are anticipating this will the largest time saver you will ensure this year.
*Requires a fee to paid to Fin Tech.

*Opening Up Inventory E-Commerce Options:
Within the Inventory – Add/Edit/More section there is a powerful tab only available for our Lightning E-Commerce retailers. In July, we will be opening this tab for all users to review the multiple options related to e-com.
I.E., managing the extended description details, setting a unique return policy, shipping policy, handling surcharge, flagging the item as a Staff Pick and/or a New Addition, image management, captions, headers and beyond,
which will allow you to review, not alter, the options within the platform, so you truly understand the significance the Point of Sale and E-Commerce integration tools, directly within your current system.
Lightning Enhanced Pole Display



We introduced our new Lightning Enhanced Pole Display, which was significant, using our Lightning Android-based pole display software. We can't talk enough about this…..Elevate your business…
Our innovative Enhanced Pole Display utilizes an 8" tablet for a perfectly sized, crisp visual experience for transaction details at the point of check out. When the register is idle, streaming ads (non-audio) featuring products available in your retail segment will loop in intervals with attractive and vivid imagery.

The top of the 8" tablet will display your companies branding, such as your logo, instead of the generic image displayed on the left side.

Requires a separate license agreement to signed to obtain an Enhanced Pole Display('s).

 
 
The release of our in-store Kiosk which allows your customers to perform an array of self-service tasks:
Item look-up up, via a built-in scanner or manual search.
View the product image (if available) and extended details that Lightning provides for some industries.

If the item is out of stock, there is an option to show the expected due date (this information is based on your Lightning purchase order)

If the item is on promotion, then the promotion and regular pricing will appear.

While viewing the said item, the Kiosk will display 'Customers who bought this item also bought' on the bottom.

Customers can look up their loyalty data, including purchase history, plus non-loyalty members can join your program.


For wine and spirits locations, we recommend enabling our drink recipes and food pairing options.

Allow your users to check gift cards, from the original purchase amount, last used date, dollars used to-date, balance remaining, etc.
Lightning Multi-Store Retailers



*Centralized Customers, Store Credits, Rewards & Gift Cards: We have enriched our platform that allows a multi-store retailer to have one set of customers, gift cards, loyalty, store credits, and accounts receivables. This allows a customer to be added in your Miami location, then can be accessed anywhere in your multi-store environment. This includes purchasing/use of gift cards, obtaining/using loyalty points, store credits, accounts receivables, and beyond.

*Store Transfers allow a store to gracefully transfer items out and into another location.

This also includes full reporting via the 'Receive History' engine for in-bound and out-bound activity.






The receiving store must accept the transfer for the qty on hand to update.
*A primary Lightning E-commerce page that allows the web visitor to select which store they would like to shop at.
*We widely enhanced our return module which allows customers to purchase an item in-store 'A' and then return it to another location.
*When an item is added to the corporate office, a new dialogue box prompts which store('s), region('s), or globally this item should be distributed to. Previously when an item was added, it was pushed to all locations. On top of that, we've added a new 'Locations' button, which allows you to redistribute an item to a location that was not part of the initial data load.
*We have addressed a few time-zone issues within the sales reporting engine within a multi-store environment.
Our e-commerce development continues full steam ahead with enhancements across the entire spectrum, from the website to the iPhone and Android mobile apps. We have achieved 100% integration between the store, e-commerce, mobile apps, enhance pole display and the in-store Kiosk.
*As we outlined in a previous e-mail blast, our UPS, FedEx, and USPS interfaces are evolving. Our original release of e-commerce was developed for local delivery and allowed the customer to pick up at the store. We expect a complete shipping module to be available in the coming months with no additional charges to the E-Commerce license.
*An upcoming Door Dash interface will allow you to hire a Dasher to make a delivery on your store's behalf directly from your E-Com Dashboard.
Note: Currently only available if you are using Lightning E-Commerce, with plans to add to Lightning Online POS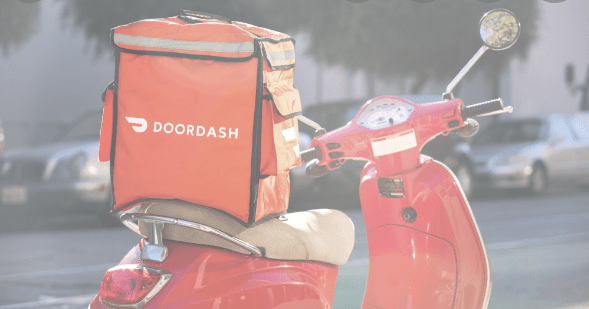 *We have revamped the E-Com Dashboard to showcase shipping information, tracking data, Door Dasher hiring options, and beyond.

*Item Lookups: Our search menu displays a cosmetically perfect interface for item selection.
*Items on promotion can have a sale tag indicator, if enabled.
The 'On Sale' indicator will appear as pictured below.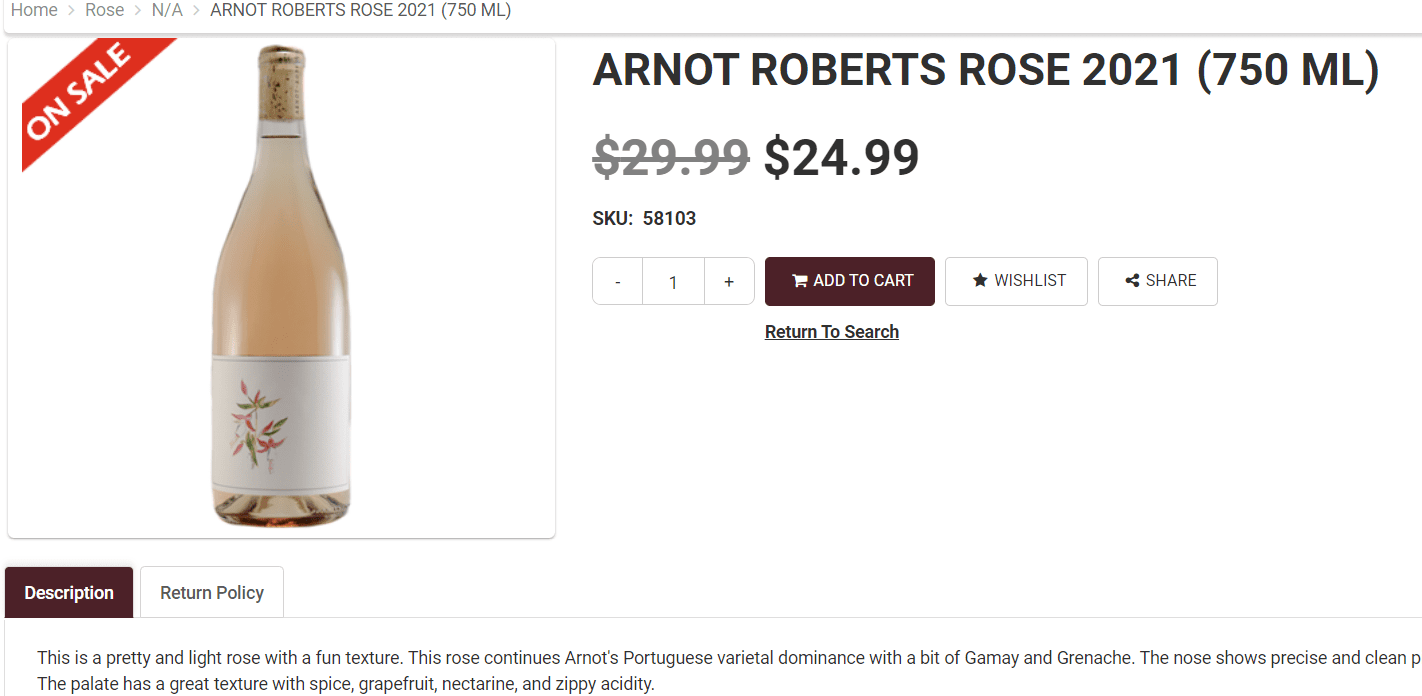 *A 'Quick Add' option, on the home page is available, allowing visitors to quickly add an item to the cart without previewing the details.

*Additional functionally has been added to the 'Job Application' section to professionally allow your applicants to apply for a job, which includes an optional uploading of a PDF resume.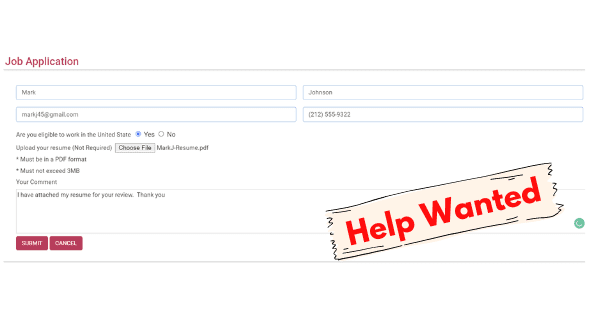 *IN-PROGRESS. Our next significant enhancement, titled 'Central Images,' is a structural change within our platform. Starting with how Lightning stores images in our server farm, obtaining images for your items, automatically inserting images/extended details to adding a third-party partner who provides vast amounts of data based on the SKU. The eventual goal is to automatically match as many items as possible in the Wine & Spirit space. This change will affect most of our products, so this will take time.
- Products affected: Lightning Online POS, Lightning Corporate Office, Lightning iPad, Lightning E-Commerce Web, Lightning E-Commerce iPhone, Lightning E-Commerce Android, and Lightning Kiosk.
Note: This has been designated a high value project which is in progress.
*Additional design options were added to the home page on the layout of your items. I.E., Promotional Items appear side-by-side, which is the default design. Next is the block format. When the 'block' is clicked, the webpage comes up with all the items in it. This also includes Staff Picks, New Additions, Discount Group Items and beyond.
PLUS, as displayed below, an option to add these sections via a drop-down menu across the top portion of the site.

*We added an American with Disabilities (ADA) third-party partner if you want to ensure your site is ADA compliant.

*Monthly fees apply, as this is a third-party provider.
* Our e-commerce iPhone and Android apps continue to evolve to ensure your customers have accurate, real-time access to your stores inventory, their sales history, quick re-ordering, and more. On top of that, there are new options on where how you would like to place your download our app links. `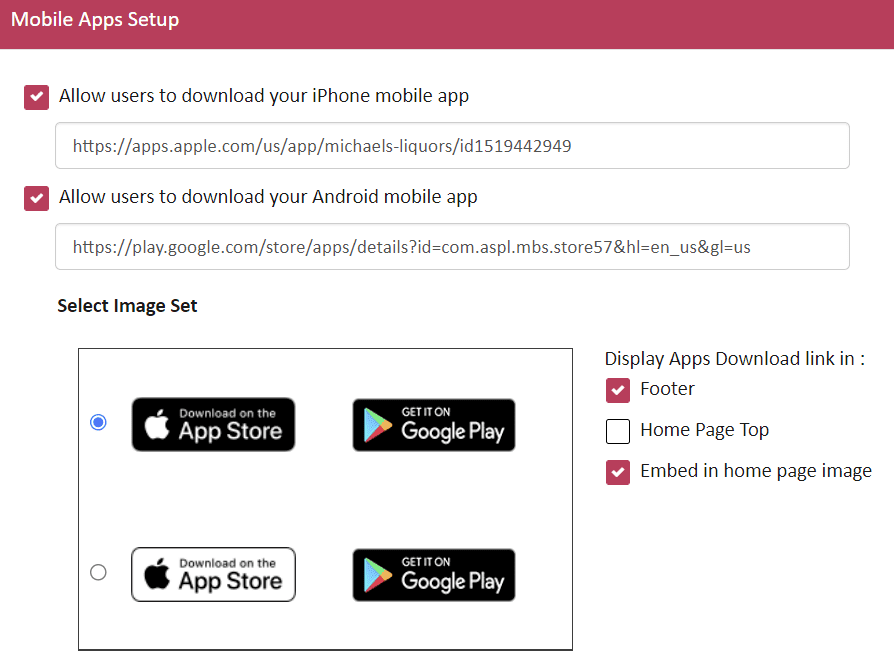 Our development work continues, with a team of nine exclusively developers working on the Lightning platform. All feedback is always appreciated as we move our technology platform forward.